Information for attendees
---
Gran Guardia Palace
Standing behind the town walls, the magnificent Palace of the Gran Guardia, with its elegant steps, was built in two different historical periods.
Building started in the first half of the 17th century, in the baroque style, and it was designed to counterbalance the arena. Due to a shortage of funds the work was interrupted, only to be completed (along with the steps) two centuries later in 1836.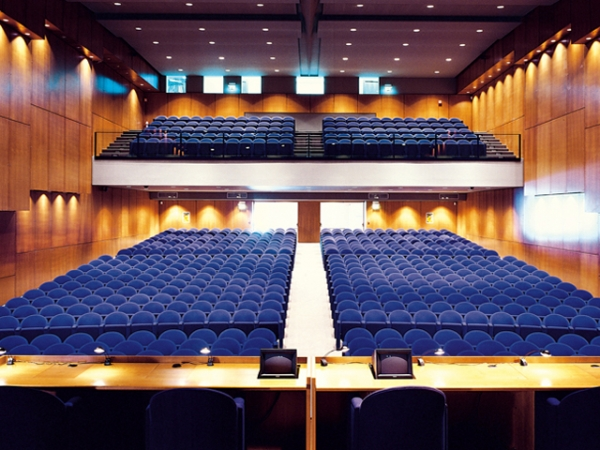 The edifice was initially built by a disciple of Michele Sanmicheli, for military purposes – on rainy days troops could also be reviewed under the building's wide porch. It has recently been restored and is now an important convention centre hosting exhibitions, cultural events and fairs. The interior of the building can be visited on these occasions.
Travel
By Plane
If your arrival/departure airport is the "Milano Malpensa International Airport" do consider that there is a new train connection to/from Verona almost every hour (travel time about 2h:20m from Malpensa to Verona; 2h:51m from Verona to Malpensa). Information is available at http://www.trenitalia.com/tcom-en where you can also buy your train tickets in advance.
Verona Villafranca's Catullo Airport (VRN) is approximately 10 Km southwest of the city center (directions ). It is a small but very busy airport, especially in the summertime.

Many Airlines fly to Verona; for example British Airways from London Gatwick, Air France from Paris (via Rome), Lufthansa from Munich and Frankfurt, Alitalia from Rome, Meridiana from many other Italian regions and cities (Naples, Cagliari, and Olbia).

Airdolomiti connects Verona with Spain, Austria, and other European countries. Also, low-cost companies such as Eurowings, EasyJet, and Ryanair fly to/from Verona from/to different destinations; for example, Ryanair connects Verona to London Stansted, Bruxelles Charleroi, and Madrid.

From the Catullo airport, you can easily reach Verona in 20-25 minutes by taxi, bus or rented car. From the airport, there is a shuttle bus service* every 20 minutes that runs between the airport and the Verona Porta Nuova railway station. The railway station is located 1500 meters from the conference venue (20 minutes walking distance). Bus lines.

* Starting August 1st 2015 thanks to the new partnership between ATV and German (DB) and Austrian (ÖBB) railways, all travelers flying to Verona, by purchasing a single cumulative ticket, can use the AEROBUS service from the Catullo Airport to Verona Porta Nuova (or vice versa) to take a train to reach locations in the South Tyrol and in Trentino. Fares for the cumulative ticket (train+ATV Aerobus) are 22 € for South Tyrol (Bolzano, Bressanone, and Fortezza), 18 € for Trento and15€ for Rovereto.
There are other airports around Verona:
| Airport | Code | Distance [Km] |
| --- | --- | --- |
| Milano-Bergamo Orio al Serio (many low-cost flights) | BGY | 110 |
| Milano Linate | LIN | 155 |
| Milano Malpensa | MXP | 196 |
| Venezia | VCE | 130 |
| Venezia-Treviso | TSF | 150 |
| Bologna | BLQ | 140 |